How to list my property for sale
Our free property listing is at your service if you want to sell your real estate property!
Let's take a look at what it usually takes to effectively submit any property for sale free ad and get the expected results.
First, you, or your client, must have ownership of the property, which is obvious, and there should be no problem.
Secondly, you need to decide where and how you want to place your ads - the online way is the most convenient, free, and has extensive coverage. Everything is simple here as well - our site is the ideal place for listing your property for sale.
And finally, a bit of time, detailed and complete information about the property.
Free ad posting process
The process of placing a free advertisement for a property for sale is easy and fast at the same time. You must sign in to the website using your social network account or email. Please note that registration is not needed. This way, no passwords are used by us and, therefore, are not stored on our servers, which has a positive effect on the security of your account and data. If you decide to sign in to the website using your email, we will send you a one-time sign-in link to your email address. In the future, you can sign in to your account using your social network account if it is associated with your email address.
The user account types of a property seller are available as follows:
Individual - the simplest one among the account types that allow you to specify a name or nickname. It is up to you whether to provide your real name or an alias. We do not limit your choice here. Add one or more phone numbers and a public email if needed. Be sure to indicate the phone number in the international format with the country code, allowing buyers from other countries to contact you if interested.
Agent/Realtor - allows you to add an agent description and a photo. For this account type, a separate public agent page creates automatically.
Company - allows you to add business information, country, address, and company logo. This account type also automatically creates a separate public company page. The main advantage of this account type is the ability to specify a backlink to the company's web page, which buyers can follow, if interested, for more detailed info about the company, its inventory, and offers. The public company/agent/realtor page contains contact information and a list of available properties, allowing buyers to view all listed properties. Each listed property page includes a link to the public page of the company or agent/realtor, respectively.
---
After the account type is selected and filled, the property listing page is enabled, which allows adding your property for sale for free. Here you provide such property parameters as the total area, number of rooms, number of stories, etc., add photos, and indicate the location on the map.
Try to choose the best photographs of both the exterior and interior of the property for your ad. The ideal solution would be to use the professional photographer service - high-quality photos significantly improve the buyers' interest in the property and increase the value of your property. The photographer service fee returns multiple times by the difference in the property price you can get in the event of a successful sale at a higher price simply due to high-quality photographs, so we advise you to take this opportunity.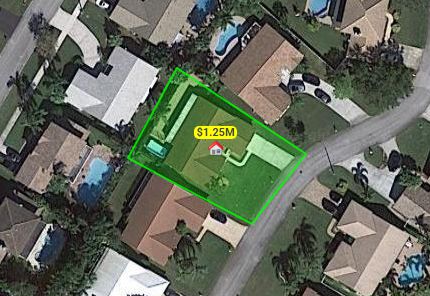 To make it easier, a short video on the property edit page shows how to indicate the property location on the map in the form of an outline (a set of connected segments). Saving the property location creates an image of the polygon on the map. This image allows potential buyers to estimate the size, orientation, and location of the property and its parcel. The property location plays an essential role in the buyer's assessment of the attractiveness of a property offer. Therefore, the accuracy and precision of specifying the property location leaves less time for decision-making and clears many questions for the buyer.
Please pay special attention to the property description because the more information it contains, the better your free ad will be perceived by buyers. As for the description language, you can use any language you like. If you are targeting real estate buyers in your country, it will be enough to submit a description in the language of your country. If you are expecting the attention of international investors or buyers, then it is worth submitting a description in English. Also, you can describe it in several languages ​​at the same time. The maximum description limit is 5000 characters, roughly two pages of text, and sufficient for a very detailed property for sale description.
---
You have successfully listed your property for sale. It is published and is available for buyers to view. Our congratulations! What else can you do to improve your chances of selling your property quickly and profitably? As you probably already guessed, this is to share the ad on social networks. By doing this, your conveniently formatted property ad page with all the information provided will be available for viewing by relatives, friends, and acquaintances, among whom there may be people interested in purchasing your property.
And now about the advantages of placing a property for sale advertisement with us:
You have full control over your ad - create, edit and delete at any time, 24 hours a day / seven days a week
Posting an ad is free - you do not pay anything for placing an ad
International Real Estate - your ad will be available for potential buyers from your country and all around the world.
Highly optimized property ad pages load fast on mobile devices and are indexable by search engines, so your ad may appear in search engine results too
All ads are searchable on the map with customizable filter parameters. Switch the map into satellite mode for a better display of real property on the ground
Each property for sale ad displays view stats for the entire time and the last two weeks, which allows you to evaluate the effectiveness of the posted ad
Frequently asked questions
For how long can I place an advertisement for a property for sale?
You fully control your ad, so you decide when the ad relevance is over and requires removal from the website
My property ad page is in the "Not published" status. How can I fix it?
There are three reasons preventing an ad from publishing:

Missing property photos - please upload property photos
Missing property location on the map - please provide the location of the property on the map
Inactive ad state - make your property ad active
Can I post a property for sale free ad without photos?
The successful placement of an advertisement on the website requires adding property photos
How many property photos can I add to my listing?
You can add up to 25 property photos
Can I post a property for sale free ad without providing the location?
Providing the location is mandatory since an image is created, and the property address is determined based on it, which ensures an efficient search for real estate by buyers
In what currency should the selling price of the property be indicated?
All prices are shown in US dollars because this currency is understandable to buyers all over the world
Can I temporarily hide an ad without permanently deleting it?
Yes, you can hide it at any time. This action takes the advertisement out of public access. To return an ad to the search, switch it back to the public status
How many free classifieds can I post in my account?
At the moment, there is no limit on the number of ads in one account
I have created an agent/realtor account. Why isn't my page appear in the public list of agents/realtors?
For the page of an agent/realtor or company to appear in the public list, you must have active/published ads in your account
Can I change my account type from agent/realtor to company?
Yes, you can change your account type from one to another without any restrictions at any time
If you've read this far, you should have a pretty good idea of the process of listing a property for sale free ad on our website. We wish you a quick and profitable selling of your property!