Welcome to Landelity!
The core goal of our real estate worldwide free classifieds service is to provide the easiest possible way of search of both international and local homes for sale or rent. Advanced map search capabilities allows to tune parameters to find exactly that home for sale you are looking for. Switching map into satellite mode provides natural land view and gives better feeling of selected area, house location and land lot dimensions.
No more zip area codes or addresses typing to start search, instead you have the whole world map to your service. Just move the map, zoom in and find homes for sale in any desired location.
No more guessing if that particular property is still on the market. Our real estate worldwide service always show actual and available homes for sale or rent. The only source of trust is direct sellers: owners, realtors or agents.
Detailed information on each home for sale includes map location image with lot borders, house, apartment or land lot photos, facts and views stats. Sellers are free to add any additional details not covered by common fields if necessary.
International capabilities of our free classifieds service may attract not only local sellers but also made it easy for buyers from all around the world to find seller's property. Home sellers that are mainly focused on foreign markets should not miss this opportunity!
Only quality homes for sale in our free ads map based listing. It is not possible to post ad without all required information like valid house, apartment or land lot location, photos and facts. All ads are reviewed manually, in case of any data inconsistency the ad may be suspended.
Is it a home for sale, apartment or land lot, is it located in America, Europe, Asia, Australia, Africa or on any island – it can be placed and found with Landelity - Real Estate Worldwide website with free classifieds!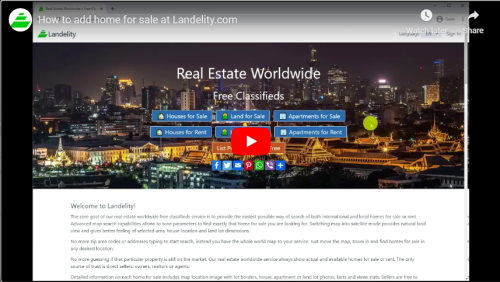 How to sell property - add your ad for sale in 3 minutes
This short video demonstrates how easily new property can be added to the map and became available to the buyers all around the world.
The video starts with the sign in which is pretty straightforward and requires only email or social login. Then you'll need to fill in your new account details by choosing user name and contact information. After that you will be able to post your ad by providing details information, property images and location on the map.